Leadership and Organizational Behavior Management
Todd Ward
5/29/2013 01:26:00 AM
amazon.com , analysis , Association for Behavior Analysis International , aubrey daniels , b.f. skinner , behavior , book review , jobm , journal , leader , management , measure of a leader , obm , organizational
No comments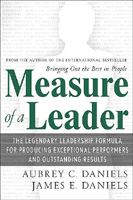 I just returned from the annual meeting of the Association for Behavior Analysis International, where I purchased the book "Measure of a Leader" by Daniels and Daniels. This book will be of interest to anyone interested in a pragmatic approach to organizational behavior change. Aubrey Daniels, the first author, is a pioneer in the field of Organizational Behavior Management the application of behavior analytic principles to improve employee performance. In addition Aubrey was instrumental in the founding of the Journal of Organizational Behavior Management decades ago.
I will post a more complete review of the book when I am finished. As quoted from Amazon.com, "

Management guru Aubrey Daniels delivers a proven, scientifically grounded approach to great leadership with

Measure of a Leader

. This book turns conventional leadership wisdom on its head, showing how to focus on the behavior of followers to craft a powerful leadership style.

Structuring their message around the indicators of follower behavior that predict a leader's influence, Aubrey and James Daniels show exactly how to impact the growth of a business, its customers, and the marketplace. Even more important, the authors' system gives managers the tools to adapt the approach, creating positive behavior that can improve the performance of their people. Managers are transformed into leaders, creating a legacy that perpetually generates greater momentum, commitment, initiative, and reciprocity throughout an organization."